WEBSITE REDESIGNING COMPANY IN SHIMLA :
GASHWA TECHNOLOGIES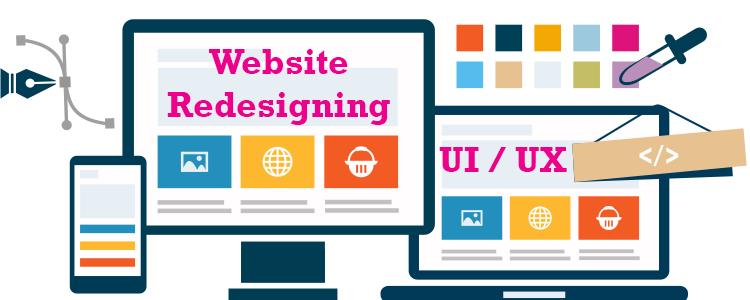 Welcome to Gashwa Technologies, your trusted partner for custom website redesigning services in Himachal Shimla. If your existing website is outdated, lacks functionality, or fails to meet your current business requirements, we are here to help you breathe new life into your online presence.
At Gashwa Technologies, we understand the importance of keeping up with the ever-evolving digital landscape. Our team of experienced designers and developers specializes in website redesigning, transforming your outdated website into a modern, visually appealing, and user-friendly platform.
We take a comprehensive approach to website redesigning, considering factors such as your business goals, target audience, and industry trends. Our team conducts a thorough analysis of your existing website, identifying areas for improvement and incorporating your valuable feedback. Whether it's revamping the design, enhancing functionality, optimizing for mobile devices, or improving user experience, we tailor our solutions to meet your specific needs.
With our expertise in website redesigning, we not only enhance the aesthetics of your website but also optimize its performance. We ensure that your redesigned website is responsive, loads quickly, and offers a seamless user experience across various devices and browsers. By implementing best practices in search engine optimization (SEO), we help improve your website's visibility and increase organic traffic.
At Gashwa Technologies, we believe that a successful website redesign is more than just a visual facelift. We focus on creating compelling content that engages your audience, effectively communicates your brand message, and drives conversions. Our team of talented content writers crafts persuasive copy that resonates with your target market and showcases the unique value your business offers.
When you choose Gashwa Technologies for your website redesigning project, you can expect a collaborative and transparent process. We work closely with you throughout every step, ensuring that your vision is realized and that the final product exceeds your expectations. Our commitment to excellence extends beyond the redesign, as we provide ongoing support and maintenance to keep your website running smoothly.
Elevate your online presence with Gashwa Technologies' website redesigning services. Contact us today to discuss your project and let us revitalize your website to achieve your business goals.
GASHWA TECHNOLOGIES have been the first choice for many small and large businesses throughout Punjab, Haryana, Himachal Pradesh, Chandigarh, Jammu & Kashmir, Uttar Pradesh, Delhi, Uttrakhand across all over the India. Internationaly for Canada, USA, UK, Australia
Need a quote on Website redesigning Project ?.Contact Us today +91-9805034219